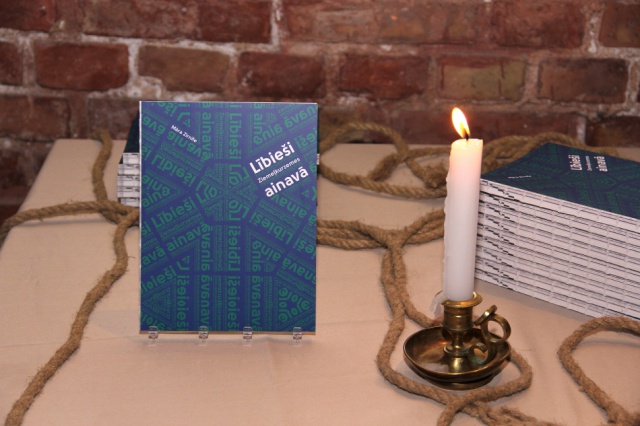 Presentation of the new book "Livonians in Northern Kurzeme" by Māra Zirnīte were held at Ventspils Museum on Tuesday, November 8. Almost half hundred people whose ancestors came from Northern Kurzeme Livonian villages came to celebrate.
Here performed the Livonian folk group "Kāndla". Voice of Alvīne Mūrniece that is recorded in the movie "The Closed coast" from Lūžņa helped feel the atmosphere of Livonian daily life and so did the stories read in tāmnieku dialect of other book characters: Emīlija Rulle from Lielirbe, Irmgarde Matirlde Cerbaha and Elfrīda Virgīnija Žagare from Sīkrags, Kārlis Dišlers from Pitrags and Paulīne Kļaviņa from Vaide village. Each guest was offered tea, refreshments and given the new book.
The author Māra Zirnīte shared her memories about almost 30 year old past, when she and other story gatherers not without obstacles made ethnographic expeditions to the Livonian coast. A bit strange and almost comic the word 'propuska' or 'permit' sounds; it was impossible for "strangers" to enter strictly guarded border zone, which covered almost all west coast of Latvia, without it. The times when linguists started the expeditions to local Livonian villages in 1980s, was the time of cold war and iron curtain, when Europe was divided in two hostile parts.
Hundreds of valuable stories are stored at University of Latvia Institute of Philosophy and Sociology National Oral History archive. The book with six stories were published in cooperation with project Baltic Green Belt, co-financed by European Regional Development Fund. The goal of this project is to reveal nature and culture heritage that hid under former iron curtain in Lithuania, Latvia and Estonia during 20th century, becoming the part and wealth of European level initiative "European Green Belt".